<![if !vml]>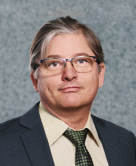 <![endif]>Enso IKONEN

·  professori, säätö- ja systeemitekniikka

·  tekniikan tohtori (TkT), dosentti

·  systeemitekniikan tutkimusryhmän vetäjä


·  Oulun yliopisto

·  Teknillinen tiedekunta

· Älykkäät koneet ja järjestelmät tutkimusyksikkö

·  Systeemitekniikan tutkimusryhmä

·  PL 4300, 90014 Oulun yliopisto

·  TF319-3; Linnanmaa, Oulu

·  matkapuh. 040 576 1935
· 

·  Professor, Control and Systems Engineering

·  Doctor of Technology [Ph.D.], Docent

·  Leader of Systems Engineering Research Group


·  University of Oulu

·  Faculty of Technology

·  Intelligent Machines and Systems Research Unit

·  Systems Engineering Research Group

·  P.O.Box 4300, FIN-90014 University of Oulu, Finland

·  TF319-3; Linnanmaa, Oulu

·  mobile +358 40 576 1935

· 

Teollisuusprosessien kehittyneet mallinnus- ja säätömenetelmät

Avainsanoja:

identifiointi, oppivat systeemit, epälineaariset systeemit, epävarmat systeemit, prosessien säätö, parametrien estimointi, tilaestimointi, optimointi

Lisää avainsanoja: ohjatut äärelliset Markovin ketjut, oppivat automaatit, sekventiaaliset Monte Carlo menetelmät, Wiener ja Hammerstein systeemit, sumeat neuroverkot, ei-parametrinen regressio, kantafunktioverkot

Vielä avainsanoja: leijukerrospoltto, voimalaitokset, kaukolämpö, energian tuotanto-varastointi-kulutus

Advanced modelling and control of industrial processes

Keywords:

identification, learning systems, non-linear systems, uncertain systems, process control, parameter estimation, state estimation, optimization

More keywords: controlled finite Markov chains, learning automata, sequential Monte Carlo methods, Wiener and Hammerstein systems, fuzzy neural networks, non-parametric regression, basis function networks

Even more keywords: fluidized-bed combustion, power plants, district heating, energy production-storage-consumption

Books:

K Najim, E Ikonen and D Aït-Kadi (2004) Stochastic processes: Estimation, optimisation and analysis, Kogan Page Science, London.

E Ikonen and K Najim (2002) Advanced process identification and control, Marcel Dekker, New York.

K Najim and E Ikonen (1999) Outils mathématiques pour le génie des procédés Dunod, Paris, France

E Ikonen (1996) Algorithms for process modelling using fuzzy neural networks Acta Universitatis Ouluensis Technica C95, Oulu, Finland (Ph.D. dissertation)
---
Random material to download
E. Ikonen, I. Selek and K. Najim (2017) Finite state estimation and control of a multi-input CSTR benchmark, IFAC World Congress 2017, Toulouse, France(slides).
E. Ikonen and J Kovacs (2013) A nonlinear filtering tool for analysis of hot-loop test campaings, Oxyfuel combustion conference 3, Ponferrada, Spain (slides).
E. Ikonen and J Bene (2010) Scheduling and disturbance control of a water distribution network, IFAC 2011, Milano, Italy (slides).
E Ikonen (2009) Gain Scheduling with Markov Transition Models, ICCA'09, Christchurch, New Zealand 9-11 Dec 2009 (slides).
E Ikonen (2007) CFMC-Toolbox (www-page)
E Ikonen (2007) Process control using controlled finite Markov chains with an application to a multivariable hybrid plant. Fourth International Conference on Informatics in Control. Automation and Robotics (ICINCO 2007), 9-12 May, 2007, Angers, France (paper)
E Ikonen, E Gomez-Ramirez and K Najim (2006) Trajectory following and regulation of chemical batch reactors via genealogical decision trees, ALSIS'06, Helsinki/Stockholm, Finland/Sweden (Slides)
E Ikonen (2006) MGDT-Toolbox (www-page)
E Ikonen (2004) Learning predictive control using probabilistic models, AFNC'04, Oulu, Finland (Slides)
E Ikonen (2003) Optimization using learning automata and confidence probabilistics. ICONS'03, Faro, Portugal (Slides)
E Ikonen (2000) Control of a pH neutralization process using Wiener systems Proc. TOOLMET 2000 Symp., Oulu, Finland, pp. 90-101 (ZIP/PS file)
Suomenkielistä aineistoa..
Ymmärrystä ja ymmärrettävyyttä prosessiautomaatioon (1997) Lehdistötiedote.
Lectio praecursoria (31. tammikuuta 1997) Väitöstilaisuuden alkupuhe.
---
SYTE laboratorion esittelymateriaalia (eng , fin )
---
---
tammikuu 2019, E.I.